Chapter Ten
In which Mark consults the witches and returns home.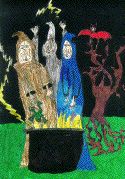 For the first time Mark noticed three old witches huddleed around a cauldron inthe old kitchen next to the feasting hall. They were chanting,

"Round about the cauldron go,
in the poisoned entrails throw.
Toad, that under cold stone
days and nights has thirty one.
Swelter venom sleeping got
Boil thou first i' the charmed pot.
Double, Double. Toil and trouble;
Fire burn; and, cauldron bubble.
Fillet of a fenny snake,
In the cauldron boil and bake;
Eye of newt and toe of frog,
Wool of bat and tongue of dog,
Adder's fork and blind worm's sting,
Lizard leg and howlets wing.
For charm of powerful trouble,
like a hell broth boil and bubble
. . .
Cool it with baboons blood
then the charm is firm and good"


"By the pricking of my thumbs, something wicked this way comes," said the one in the black hood.
"Um, excuse me, " Mark interrupted.
All eyes turned on him.