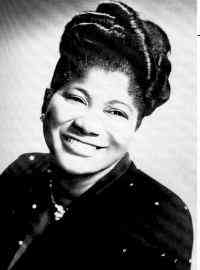 Born October 26, 1911 in New Orleans, Louisiana.

Mahalia Jackson was the most famous Gospel Singer of all time.

She developed a style of singing that combined jazz, blues, and religious music.

Mahalia Jackson also popularized music around the world.

Mahalia Jackson sang at the inauguration of President John F. Kennedy.

In the 1930's Mahalia Jackson began to record her music and became more than just a local talent.

She died on January 27, 1972.