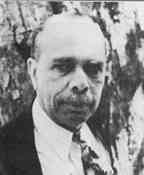 He was born on June 17, 1871 in Jacksonville, Florida.

He earned both a Bachelor of Arts and Master of Arts degrees at Atlanta University in Music.

After receiving his Bachelor's Degree in 1894, he became Principal of a high school in Jacksonville.

He began to practice law and drawing on his musical training to collaborate with his brother John in writing songs.

They produced over 200 songs for the musical stage.

The stories influenced Johnson's poetry too, and were recorded in his Book of American Negro Spirituals and Gods Trombones.

He died June 26, 1938.