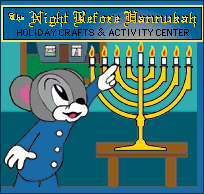 The Night Before Hannukah: Holiday Crafts & Activity Center is a fun, educational experience, for both Jewish and non-Jewish children, ages 3-10. Learn about Hannukah's beginnings, and what it means to celebrate the holiday. Experience the traditions and play the games -- both on and OFF the computer!

Activites include:

Play the traditional Dreidle game. Plus print a dreidle you can make to play with at home!
Make Latkes and Jelly Doughnuts on the computer... AND in your kitchen!
Create and print special Hannukah verses to send to your friends
Build beautiful menorahs
Send very special Hannukah Thank You notes
Decorate and print a Hannukah calendar -- for any year up to the year 2011!
Learn once and for all how many ways there are to spell Hannukah!
Create a 6-point star of David and turn it into a 3D masterpiece to hang in your window!
Explore the animated original "The Night Before Hannukah" interactive poem, and learn the story of the first Hannukah!
There's even a dictionary to look up all the words and traditions associated with the holiday!