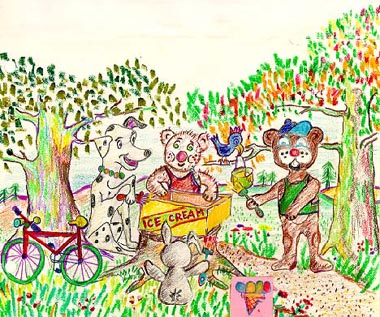 "This is the most perfect ice-cream bike I have ever seen," said Bobby looking admiringly at their work.
The yellow painted box glittered like a jewel on the dark green of the park trees. The silvery colour of the bells was now bright orange in the slowly setting sun. They jingled softly in the light evening breeze from the lake. And the colourful pictures on the sticker now looked so tempting that both bears started to lick their lips.
"Earth to Ted E., earth to Bobby!" Spot's voice broke the evening charm.
"Oh, sorry, but doesn't that ice-cream look delicious..."
There was a little bit of disappointment in Ted E.'s voice.
" You can start tomorrow," announced Spot.
That night Ted E. could not sleep, all he could think about was ice-cream, tons and tons of ice-cream...
The next day Ted E. got up early. He hardly touched his cereal. He left a note on the fridge saying that he will be back for supper. He put on a blue t-shirt saying "Dickie-Dee Ice-Cream," which Spot gave him, took his lunch, and ran to meet Bobby.