Beware of Best Friends
(The Horrors of Girl Scouting)
by Terri Leventhal, age 9, from US
i! My name is Teri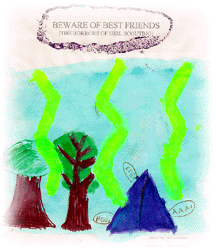 and I am a Girl Scout, a Brownie. Every Monday after school, my girl scout troop and I walk to Girl Scouts. My troop leader is Ms Schiavo. Mrs. Kardes helps her out. My two best friends, Jenny and Karen are in my troop. There are seven other girls in my troop. Their names are: Ashley, Caitlin, Jennifer, Jen, Kate, Emily, and Regina.
One day at Brownies, Ms. Schiavo said, "We are going on a camping trip." We all cheered. Ms. Schiavo told us what we should bring on the trip and what to do and not to do. Then she said, "Now I will give you your jobs. Teri you will clean the Don Jons near the river." Everybody laughed and pointed at me. I blushed. Suddenly, a car horn sounded and startled us. Ms. Schiavo said not to be frightened. The horn was from the bus that was taking us to camp. We all ran out of the house and onto the bus.
Once we were all settled in and the bus left the driveway, Ms. Schiavo said, "The tents we will be sleeping in are on the ground so we will be using mats to sleep on." We passed a sign that said CAMPGROUND, NO TRESPASSERS ALLOWED.
Soon the bus parked and we all ran out. Everybody except for myself ran into the tent. I went to clean the Don Jons down by the river. I was almost there when I heard a voice say, "Hey you! Come over here!"