Me2Cam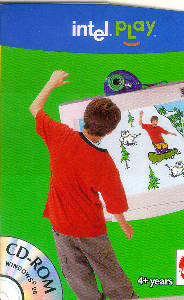 A COOL COMPUTER GAME by Travis Rutenbeck, age 8
My cousin played a new computer game with me. You get to be on your computer and see yourself inside the game! It was weird to see myself on the screen. I have never been on the screen before. You have to move around in front of the camera. Then it moves you around inside the computer, and you can play games.
I liked the games, especially the skiing game. There was stuff in my way. I moved around to get by them. I liked the jumps. I jumped very high and also crashed into rocks. There was a bubble game, too. When you pop the wrong bubble you turn into a tornado. You go rolling around on the screen and are like a stick, real flat. You also get stuck inside a bubble. I popped lots of wrong bubbles.
I think kids would like this game. It would be for kids older than me and younger than me. It's fun. I liked the parts that were games more than the parts where stuff just happens to you. Little kids would like those parts.
I would like more games on it. I wish there was a game with a jet ski or a 4-wheeler or a dirt bike that would crash. I would have all these things I would have to avoid, like an avalanche. I wish you could shoot at stuff with your hands. I wish my cousin and I could play one game together. It would be cool if we were both on the screen.
"I LIKED IT, TOO!" by Karri Rutenbeck, age 10
I liked playing these games with my cousin. We took turns standing in front of the camera. I liked the pinball best. It was fun. There was a bouncing ball on my head that was neat! I wasn't too good at it, but I liked it because it was fun. I have never seen myself in a video game before. I had my own head!
I liked playing the games the best. The rock band dancing was OK, but it would get boring after a while. It would be neat to dance to a radio station I liked, like Mix 96 or 98.9. I would like more games. I want to do more things in the games. I would like to control more things, too. It would be neat to do tricks on the ski slope, like flips. You can't see your feet, though, so it would have been hard to do.
My friend, Kirsten and I want to play these games some night after school. I think boys and girls my age would like these games. If you are like me, and I like it, then you would like it, too.
"SOME SET-UP NOTES" by Mitch Rutenbeck, age 17
I found the set up was not complicated at all. Anyone could do it. Once it is set up for each person, you can easily switch back and forth from one person to the other. The camera was a little touchy, though. If it moved due to all the jumping around, it must re-momorize the background to keep it out of the game. I didn't think the picture quality was the best, but it had close to true-time motion. This worked well in the games where a motion delay would have spoiled the kids' fun. The instructions said age 4+, but no one my age would play it after the novelty wore off. They might, though, if the games were more complicated and the software more sensitive to finer movements.
You can find out more information about the Me2Cam by visiting the IntelPlay web site.
System Requirements
Me2Cam™ Computer Video Camera and Fun Fair™ CD-ROM minimum system requirements:
Windows® 98
Intel® Pentium® or Celeron™ Processor, 233MHz or faster (or equivalent)
USB port enabled
32 MB of RAM
Minimum 65MB free hard disk space
Video and sound devices that are compatible with Microsoft® DirectX® 6.1
8x or higher CD-ROM drive
640x480 display, 16-bit color
16-bit Windows® compatible sound device
Standard mouse and keyboard