Chapter 5 - Back to the Pond
onday morning at recess, Serg, Kristian and Alisha told the class about the man named Al Wolf who was dumping oil into the gutter. They explained about the muddy boots and the equipment in the car.
"Well, muddy boots don't mean that the person, well, I mean Al Wolf was the person, that did the bad things at the pond," said Emily.
"But what about the drilling equipment? We found receipts that were from drilling equipment! The initials on the billfold were A.W.! A. W. could mean Al Wolf! It could have been his, and he could have bought them!" retorted Tim C.
"They were the same kind of shoes as the prints that we saw in the pond, big-toed cowboy boots," said Todd.
"Well, we can't be sure, but until we find out, let's put him down as a suspect," said Megan S.
"Is that OK, Emily?" asked her friend Amber.
"Well, OK," said Emily, "but don't bet on it!"
After recess, they went to the pond to pull weeds. Flo said that she had to go back to the classroom, so she left a UCD student teacher, named Jenny, in charge. Some of the kids distracted Jenny while the rest of the kids went along the water's edge.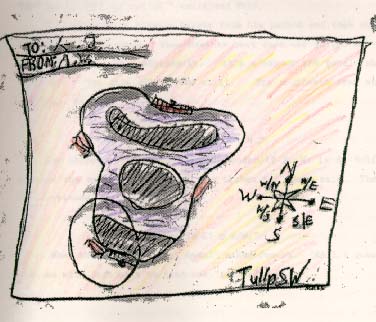 Rebecca said, "Hey you guys, there are big pits in the ground!" The others looked where she was pointing. There was a black sticky substance all around the outer rim of the pits. "Be careful! They're just like the one that I fell in last week that Todd had to pull me out of!" exclaimed Phil.
Phil took out a plastic baggie from his pocket and took some of the black substance. Then Heather bent down and pulled out a piece of paper. She unfolded it. "It's a map of the pond!" she exclaimed. The kids all looked at it. The southwest area was circled. It read: "To: K. J. From: A. W."
She stopped. "A. W...Hey, I wonder if A. W. is Al Wolf, the man the police officer gave the ticket to!" Serg said. Then she continued, "Meet me Tu 11 p s/w."
"What the heck does that mean?" asked Joseph.
"Well, I guess that we will just have to find out," said Tim C.