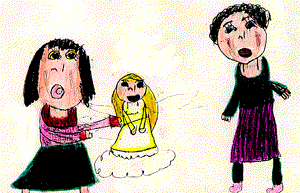 Finally, the tree had been decorated. Susie couldn't wait to put the angel on the top of the tree.
"Ready?" asked Mr. Smith.
"Yes, Daddy, I'm ready!" said Susie happily. She took the angel out of the box. The angel had long, white, silk wings. She had a white silky dress, hair as gold as the sun, and eyes as blue as the sky. "She's beautiful!" complimented Susie.
"She is lovely, isn't she?" agreed Mrs. Smith.
Mr. Smith lifted Susie onto his shoulders. Susie placed the angel on the top. The tree was complete, and it was beautiful.
That night, the Smith family children did not want to go to sleep. Susie insisted that they needn't go to sleep, because the next morning they could sleep late. (It was Christmas vacation.)