A long time ago.....
Since I don't have a Grampa, I don't have many stories told to me. This is my book to you. This book is fiction and many of the words are in Southern dialect.
A long time ago, I was walking down the street. I came to a pond. Sitting at it was an old man. First I was stiff, then, curious. I decided to say hello. I did and he lifted up his head, "Uh," he said. "My name is Bill." Then I recognized him as my friend.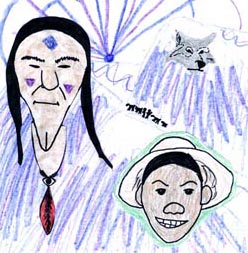 "You jokester, I thought you were someone else" I said. Bill was my 111-year-old friend. He was homeless. Well, actually he did have a home. Bill's home was at the pond. That's where I visit him every day. It doesn't matter whether you have a home or not, it just matters if you have a heart, and he surely did.
Now his home is the earth, the wind, the rain and the sky. Bill's home is the water, trees, soil and the sun.
I feel like Bill was my Grampa so I call him Grampa Bill. Grampa Bill tells me a lot of stories about when he was little. He said there were brooks, lakes, streams, lagoons and waterfalls. I used to visit him every day. One time I asked him "What's beyond the mountains?" This was his answer.