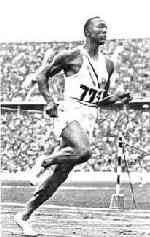 He was born on September 12, 1913, in Danville, Alabama.

He broke the world record in the 200-meter dash in 1935.

Jesse Owens won the 100-meter dash, tying the Olympic record.

His record in the long jump went unbroken for twenty-five years.

His 400-meter relay team also set a world record.

Jesse Owens held world records for all sprint races recognized by the Amateur Athletic Union.

Jesse Owens died March 31, 1980.